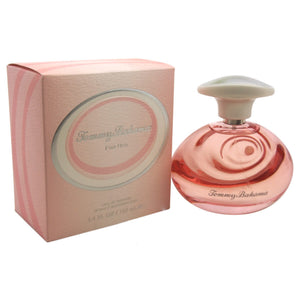 Tommy Bahama Pearl EDP Spray 3.4 oz (100 ml)
As alluring and intoxicating as you are, Tommy Bahama for Her Eau de Parfum opens with a mouth-watering top of succulent mandarin, juicy apple, and nostalgically sweet honeysuckle. At heart, creamy Gardenia blossoms are enhanced by Hedione Hi-Cis as they blend seamlessly with the indulgent scent of the heliotrope flower. A sexy back of vanilla, earthy patchouli, and soft musk is drizzled in the decadence of praline, leaving you wanting more.
Features:
Brand: Tommy Bahama
Series: Tommy Bahama Pearl
Gender: Ladies
Top Notes: Cactus flowers, Clementine, Bergamot
Heart Notes: Hawaii tuberose, Frangipani flower, Honeysuckle
Base Notes: Exotic wood, Nectarine, Musk
Department: Beauty
Category: Fragrances
Base: Spray
Size: 3.4 oz
Type: Eau de Parfum
Launch Year: 2005
What's In The Box?
Tommy Bahama Pearl EDP Spray 3.4 oz (100 ml)
Item Condition: New
All items sold on jungleoutlet.com are authentic.