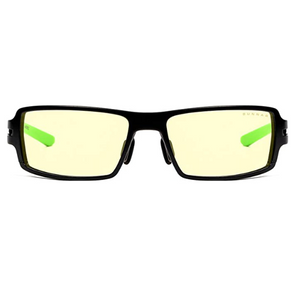 Gunnar Gaming and Computer Blue Light Blocking Glasses
The blue light blocking gaming glasses (Patented Lens #9417460) protect your vision, reducing eye strain and headaches while viewing tablets, computers, TV, and phone screens. Gunnar protects against symptoms stemming from prolonged screen-staring including migraines, headaches, dry eyes, blurry vision, negative effects of blue light exposure, cataracts and macular degeneration. Gunnar produces ergonomically designed gaming/ computer eyewear with a lightweight frame to give you a full day of comfortable screen viewing. 
Features: 
Frame Material: Plastic
Lens Type: Resin

Lens width: 62 millimeters

Bridge: 17 millimeters

Arm: 120 millimeters

Gender: Unisex
What's In The Box?
Gunnar - Gaming Glasses
Item Condition: New
All items sold on jungleoutlt.com is authentic.