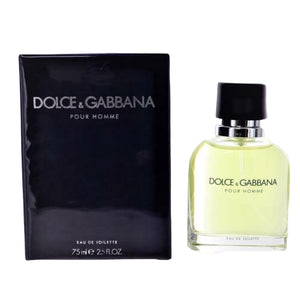 Dolce & Gabbana/D&G EDT Spray 2.5 oz
Dolce and Gabbana is a refined, spicy, lavender, amber fragrance. This fragrance has a blend of lemon, orange, lavender, sage, cedar, and tobacco.
Features:
Brand: Dolce & Gabbana
Series: Dolce & Gabbana pour Homme
Gender: Men's
Top Notes: Bergamot, Mandarin, Orange, Neroli, Lemon
Heart Notes: Lavender, Sage, Tarragon, Cardamom, Pepper
Base Notes: Sandalwood, Cedarwood, Tonka bean, Musk, Tobacco, Iris, Coumarin
Department: Beauty
Category: Fragrances
Base: Spray
Size: 2.5 oz
Type: Eau de Toilette
Launch Year: 1994
What's In The Box?
Dolce & Gabbana/D&G EDT Spray 2.5 oz
Item Condition: New
All items sold on jungleoutlet.com are authentic.